The Wilde Friendship Album
"From a poet to a poem..."
When we think of notes, we tend to think of individual, solitary acts of writing. In the spirit of the holiday season, I'd like to introduce an inherently social form of note-taking: the friendship album.
Before Facebook walls, Instagram likes, and Substack's comments section, there were friendship albums. They were an early form of social media.
Friendship albums were blank books into which friends, family, and the occasional celebrity would write poems, draw sketches, and sign their names. It was a way of conveying affection. It also communicated social status and cultural values. We can learn a lot about a person by the names in their album.
When I was 6 years old, my grandmother taught me about the friendship-album tradition —"Stammbucher" in her native German—and how she kept one as a child. Immediately, I re-purposed my little purple diary as a friendship album. That night, at our Passover Seder, I diligently went around the table asking every guest to sign their name. If memory serves, some people even wrote little poems of the "Roses are Red" variety.
If you have little kids at home, I suggest encouraging them to start a book like this. Really, though, everyone should have a friendship album. There's something incalculably special about capturing a loved ones' handwriting.
In this edition, I'll give an overview of the friendship-album tradition and then focus on the album kept by Constance Wilde, Oscar Wilde's wife — it's one of my most favorite notebooks!
Friendship Albums
The next time I thought about friendship albums, I was in my early 20s. I was spending a lot of time in archives while writing my dissertation about 19th-century notebooks, and I came upon manuscripts like this one, kept by Anne Wagner, a woman living in Liverpool in the 1790s:
Close as this lock of Hair the ribband binds

May friendship's sacred bonds unite our minds

Yrs Sincerely,

Eliza Crooke

Liverpool, June 15th [17]95
Here is the facing page, shown with the same lock of hair.
Friendship albums are a kind of note-taking focused on recording relationships. The friendship album was originally called the Album Amicorum ("album of friends" in Latin). Here's some trivia: we get the word "Album" from the Latin word for white (which, in it's neuter form, is album). This reflects the blank pages of an unused notebook.
In the Renaissance, students would keep these books and ask scholars to pen advice or mottoes in them. In the sixteenth century, Philip Melanchthon (one of Martin Luther's collaborators), explained:
These little books certainly have their uses: above all they remind the owners of people.
By the 19th century, the friendship album was considered a feminine pastime— often it was referred to as a "Lady's Album." Men would complain of being hunted down by women who wanted their signature, and famous authors joked about creating a "society for the suppression of albums."
During courtship, men would try to impress ladies by writing poems in their albums. Some worried that writing in a lady's album might be misconstrued as "a promise of marriage." A character in the 1845 short story, "The Island Bride," thought of albums as
a well-disguised species of man-trap, and never saw one opened before him without a shudder, well knowing that a sonnet may be twisted into a promise of marriage…
In truth, writing in a lady's album was often flirtatious. Once married, a woman's husband was expected to be among the first to write in her album.
The Wilde Album
Constance and Oscar Wilde
In 1886, fashionable society gathered twice a month at 16 Tite Street — Constance and Oscar Wilde's London home. If you were invited, chances were you would have been asked to sign Constance's album.
Celebrities flocked to Oscar Wilde—luminous wit and author of enduring works such as The Picture of Dorian Gray and The Importance of Being Earnest. But Wilde lived a double life. He was gay at a time when homosexuality was a punishable crime. In fact, Wilde spent 2 years in jail, sentenced to hard labor, because he was gay. Those two years destroyed him, and he died shortly afterwards. Needless to say, this wasn't an easy life for his wife, Constance. In photographs of the two of them, Constance never looks happy.
Constance's album invites us into their gatherings. Taken together, the entries convey the tone and style of their circle. They exemplify the principles of Aestheticism as Wilde understood it.
Wilde and his friends developed a style that was called Aestheticism or Decadence—it was characterized by a world-weariness and fashionable despair. Most shockingly, proponents of Aestheticism claimed to value beauty above ethics, characterized by the slogan: "art for arts sake."
In the beginning of their marriage, Constance and Oscar Wilde formed a powerful team. Together, they promoted "rational dress" for women — which removed restrictive corsets in favor of free-flowing clothes.
For her part, Constance wrote articles and gave interviews. According to her biographer, Franny Moyle, Constance "had become the brand extension that her husband had hoped."
In 1894, 10 years after Constance and Oscar married, a reporter visited their home and read through Constance's album.
An interesting glimpse into Mrs. Oscar Wilde's tastes and surroundings is afforded by a glance through her autograph-book, a plain little volume cased in a charming book-cover made by herself. From the dedicatory verses on the first page, written by the author of "Salomé" to his wife: --

"I can write no stately proem,

As a prelude to my lay;

From a poet to a poem,

That is all I say."

to the last of the many characteristic utterances contained therein, every signature gives food for thought, and, oftener than not, reveals something of the writer.
Let's look at a few entries written by some of the album's more famous contributors, beginning with Oscar's dedicatory page.
Oscar pens the album's first full entry — a dedicatory poem. Yet the entire poem is cloaked in secrecy. He can't write a "stately proem" (a preface or preamble). But, the "you" in the poem "will understand."
I can write no stately proem

as a prelude to my lay.

From a poet to a poem, —

this is all I say.

Yet if of these fallen petals

One to you seems fair,

Love will waft it, till it settles

On your hair

And when wind and winter harden

all the loveless land,

it will whisper of the garden,

you will understand.

Oscar Wilde

June

86
Walter Crane was an important illustrator and produced many children's books. For Constance's album, he writes a little poem which plays on the homophone leaf/leave. Notice, too, how Crane plays with the Latin aphorism ars longa, vita brevis (art is long, life is brief).
From your book I take a leaf,

By your leave to leave or take:

Art is long, though life be brief,

Yet on this page my mark I'll make.
And with that, Crane leaves his "mark," with which he habitually signed his art work.
You'll find his "mark" twice on this cover for an early version of a coloring book:
Charles Shannon and Charles Ricketts met in art school, fell in love, and spent their lives living together and creating art together. They designed covers for some of Oscar's books (such as The House of Pomegranates, displayed below).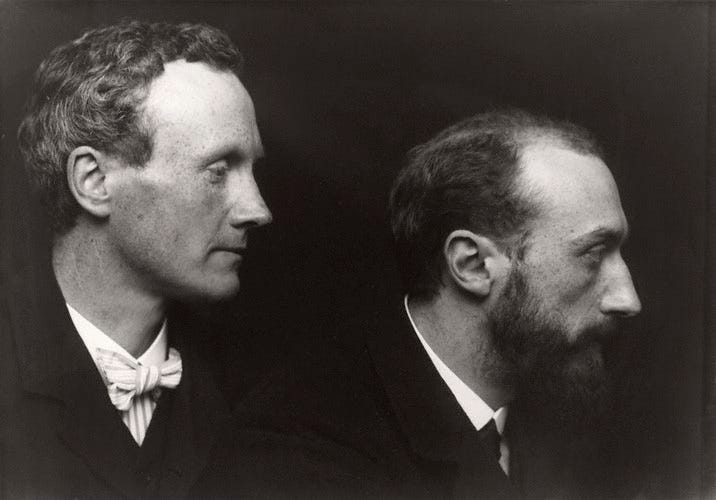 For Constance's album, they both drew sketches on a single page.
Apparently, the two men took the album home with them to spend time on their illustrations. Constance includes a note from Shannon in the back of the book:
Dear Mrs. Wilde,

I caught a glimpse of you yesterday at the Burlington Club but I found that you had left before I could apologize for not returning your book in which Ricketts and I have done … little sketches…
The album was also a space to advertise one's latest publication. For example, fans of Mark Twain might be interested to find him inscribing a quote from his most recent publication, Pudd'nhead Wilson in 1893:
Habit is habit; it is not to be flung out of the window by any man, but must be coaxed down stairs a step at a time.

Mark Twain

Florence, March 1893
Ellen Terry, the great Victorian actress, had just performed Ophelia in the Lyceum Theatre's production of Hamlet. She simply signs her name in the Wilde album, but her co-star, Henry Irving quotes his line from the production— "What! the fair Ophelia" —before signing his own name.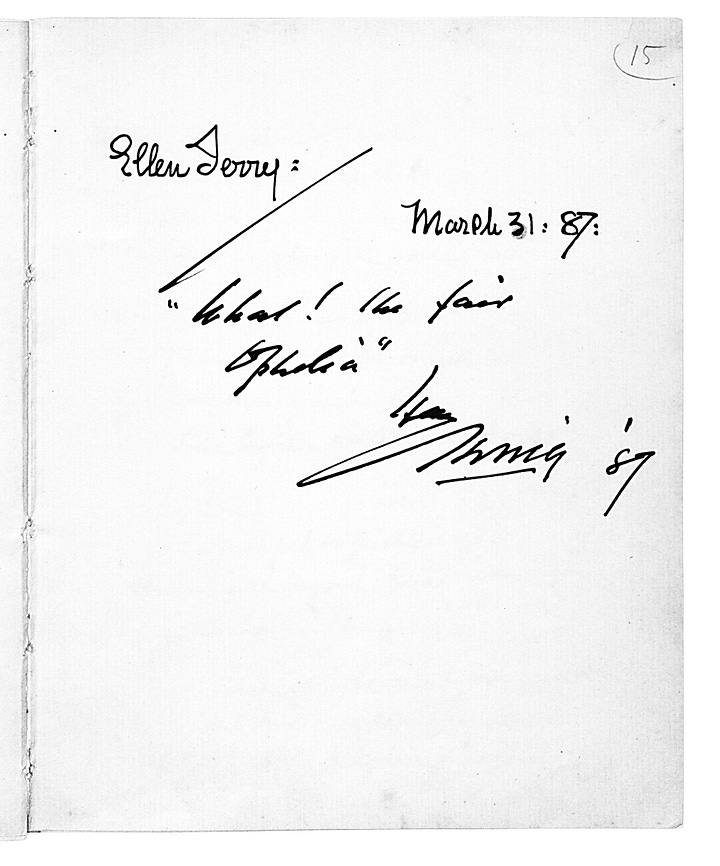 Writing in an album like Constance's was nothing if not a performance—a highly manicured representation of a public self in a more private setting. Given a page, each contributor made it his or her own. For this reason, the album provides an illuminating view into fin-de-siècle life that paralleled its literature and art.
Where is Constance?
I've always wanted to know more about Constance. She is stubbornly absent from her album. While Constance wrote articles of her own and Franny Moyle wrote a fantastic biography, Oscar's wife remains a shadowy figure. Her contemporaries described Constance as an uncomfortable public persona—shy and quiet. Marie Corelli, a best-selling Victorian novelist, describes Constance as a "lovely fairy who guards and guides" Oscar.
Others dismissed Constance. For example, the Comtesse de Brémont uncharitably claimed that Constance "speedily sank in to the background, completely forgotten and eclipsed by the brilliant glow of her husband's eloquence."
Constance certainly collaborated with Oscar in so far as they cultivated a now canonical image of Aestheticism. She held "at homes," collected autographs, and sat for interviews to support her husband's career. There is creativity in collecting and documenting, organizing and sorting. And there is creativity in cultivating a public identity. All of which goes to support an 1895 article's assertion that Constance "may be truly called an apostle of the beautiful."
Thanks, as always, for reading. Let me know you enjoyed this post by hitting the heart below. You can also support this newsletter by subscribing, commenting, and sharing!
Till next week,
Jillian